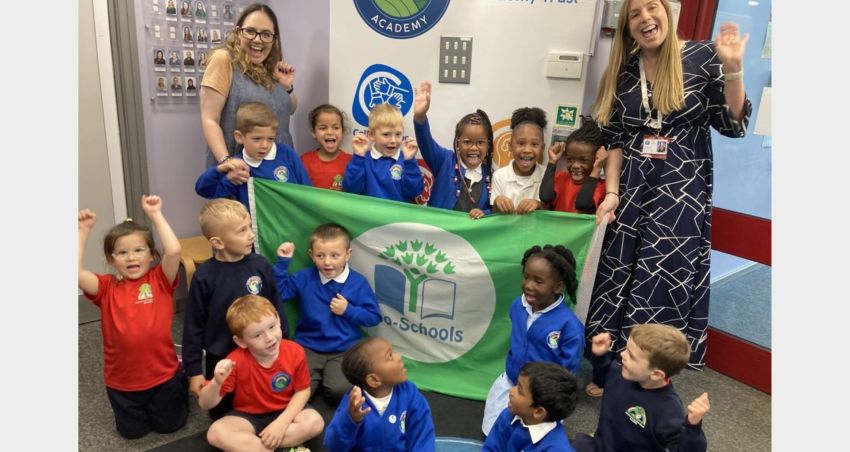 Shepherdswell Academy has earned an international accreditation recognising their amazing work in making their school environmentally friendly and raising eco-awareness in fellow pupils.
Pupils were presented with their award at a special assembly today (Thursday 28th September.
To achieve this accreditation pupils at Shepherdswell Academy formed an Eco Council which worked to think of ways to improve the school and care for the environment. They decided on three main themes they wanted to improve – these were energy, litter and transport and created an action plan to tackle each aspect. The action plan included adding energy saving tips to the weekly newsletter, organising a school and community litter pick and conducting a survey to see how children travelled to school.
Head of school Ellen Williams said: "We are very proud of all the hard work and effort our Eco Council has put in to help everyone within the school community to think more about our environment and understand why it is important."
Executive headteacher Ruth Ryan said: "The Eco-Council has demonstrated that we all need to work together to make a difference and they set targets to make sure they achieved what they set out to do. Shepherdswell Academy's eco-journey is continuing, and we can't wait to see what they can do next."
Teddy, Year 2 said: "I really enjoyed teaching everyone about how to save energy, we created posters on how turning the lights off and not leaving computers on will reduce the amount of electricity we use at home and school."
Eco-Schools England Manager, Adam Flint, said: "The Eco-Schools Green Flag award is an internationally recognised symbol of high environmental standards. The pupils and school staff that earn the award deserve immense credit for their hard work, determination, and creativity. Their passion for protecting our planet is an inspiration to us all."
The Eco-Schools programme was established in 1994 and is now delivered in more than 70 countries across the globe. More than one million pupils attended an Eco-School in England in 2022-23. To learn more about Eco-Schools head to www.eco-schools.org.uk